This post is sponsored by Paramount Home Entertainment and Nickelodeon Home Entertainment. All opinions are my own.
Bring home Blue's Clues & You! Caring with Blue today and make it a watch party with these fun Blue and Magenta cupcakes, made easy with my printable cupcake wrappers and ears!

In the new Blue's Clues & You! Caring with Blue DVD, Blue and her friends play Blue's Clues to learn about all kinds of emotions–-Josh is feeling silly, Magenta is so excited to get new glasses and Blue is feeling a bit sad. The DVD will also include special episodes from Josh & Blue's VLOG and eight American Sign Language flash cards featuring Josh and words from the show.
Blue's Clues & You! Caring with Blue Episodes:
Laugh with Blue
Getting Glasses with Magenta
Sad Day with Blue
Getting Healthy with Blue
Blue's Clues & You! Caring with Blue Special Features:
Silly Town Skidoo
Skidoo to Blue's School
Josh & Blue's Superhero Skidoo
Josh & Blue's VLOG!

Nursery Rhymes + Guessing Game!
Healthy Snacks Song + Magenta Gets Glasses!
Find the Snail + Play Time Sing Along!
Play Hide & Seek + Music Guessing Game!
Science Experiment + Sing Alongs!

Learn Sign Language with Josh & Blue
Learn How to Wash Your Hands with Josh & Blue
Interview: Meet Josh from Blue's Clues & You!
Recently I had the opportunity to interview Josh! Watch our conversation and learn why Blues Clues & You! is important to him, how he takes his own dog to the set, and about a heartfelt conversation he had with Steve.
Blue's Clues & You! Cupcakes Inspired by Blue and Magenta
What You Need:
Cupcakes (you choose the flavor!)

2 sticks of butter, room temperature

1 lb. of powdered sugar (½ of a bag)

2-4 tbsp. milk

1 tsp. vanilla

Food coloring — blue and magenta

Two icing bags and star icing tips

Printable cupcake wrappers and ears — DOWNLOAD

Tape
Instructions:
Prepare and bake your favorite flavor of cupcakes and set them aside to cool.
For the buttercream icing, combine the butter, milk, and vanilla in a bowl and mix until smooth. Add the powdered sugar a few cups at a time until it is incorporated.
Color half of the icing blue and half of the icing magenta. Place your star tips in the icing bags and fill with each icing color.
Ice half of your cupcakes blue and half magenta.
Print and cut out the themed cupcake wrappers and decorative ears. Tape a themed cupcake wrapper around each cupcake and stick two ears into the cupcake on either side.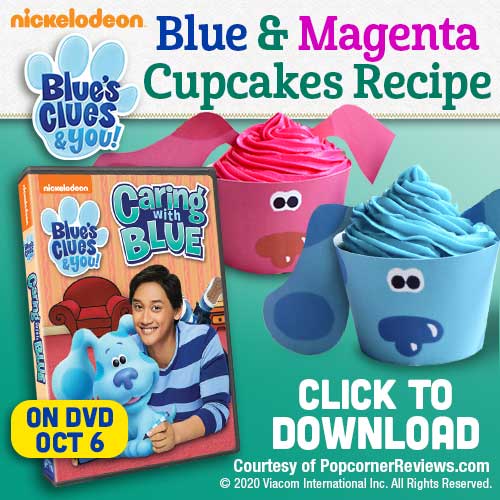 Add some fun cookies to your Blue's Clues & You! watch party with these cookies inspired by Josh and Blue!