This post is sponsored by Paramount Home Entertainment and Nickelodeon Home Entertainment. All opinions are my own. This post contains affiliate links. Purchases from these links may provide a small commission to me to help support my blog. There is no fee or charge for you.
It's time to put your paws together for some very special musical performances featuring the Blue's Clues and You! gang — Blue, Magenta, Josh, The Mailtime Quartet, Slippery Soap, and surprise guest performer – singing sensation Ally Brooke!
Learn about different musical instruments, start a band, and have a dance party during four music-filled episodes in Blue's Clues and You! Blue's Sing-Along Spectacular, now available to purchase on DVD.
Blue's Sing-Along Spectacular Episodes:
The Blue's Clues & You! Blue's Sing-Along Spectacular DVD will feature the following episodes and will also include four American Sign Language flash cards featuring Josh and words from the show.
Song Time with Blue
Blue's Sing-Along Spectacular "Bluestock"
Blue's Big Beat Band
Blue's Big Dance Party
Looking for more educational activities for your kiddos? Click the image below to download and print eight musical flashcards to use at home!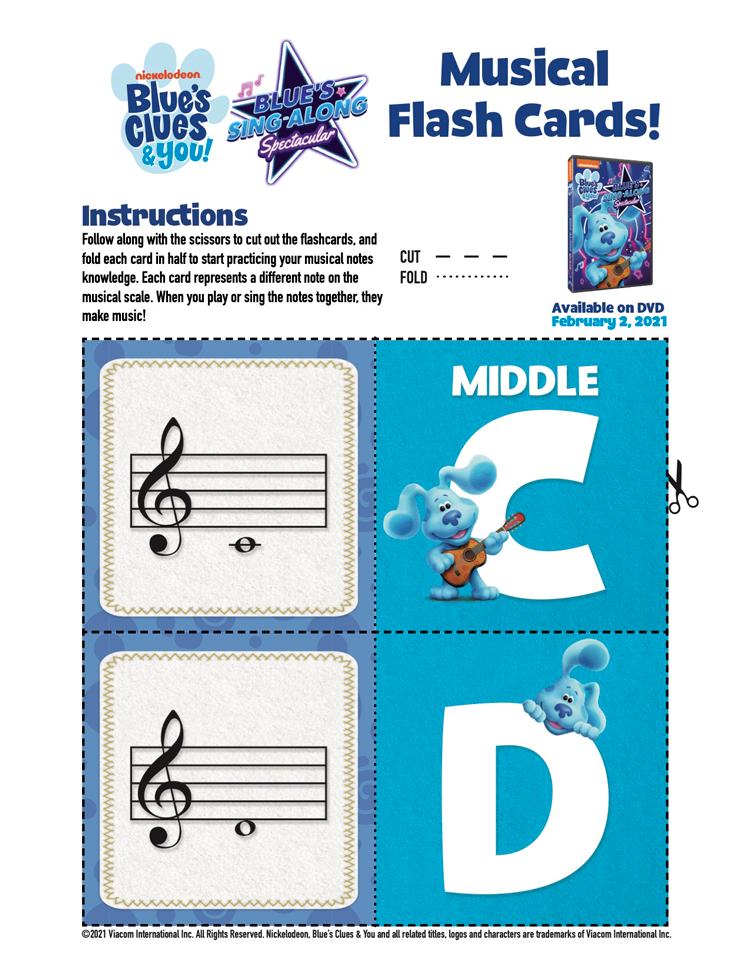 Blue's Clues and You! (Mini) Sing-Along Cake
To celebrate the release of Blue's Sing-Along Spectacular, I've teamed up with Nickelodeon to share a recipe inspired by Blue and her love of music!
Follow my instructions to decorate a mini cake (you choose the flavor!) with delicious buttercream icing and a fun music note design. Top it off with a free printable Blue's Clues and You! cake topper inspired by adorable puppy Blue!
Ingredients and Supplies:
3 six-inch circular cakes
4 sticks of salted butter, room temperature
2 lbs. powdered sugar (1 bag)
2 tsp. vanilla extract
3-5 tbsp. milk
Food coloring — blue, pink, black
Assorted blue sprinkles
Angled spatula
3 icing bags
Icing tips — medium star tip and small, round tip
Serrated knife
Printed cake topper — DOWNLOAD
One piece of black cardstock paper
Tape
2 candy sticks or popsicle sticks
Instructions:
Print and cut out the cake topper. Tape the picture to a piece of black cardstock paper, then trim around the edges. Attach two candy sticks halfway down the back of the cardstock paper with tape.
Prepare and bake three 6-inch circular cakes — you choose the flavor! Let the cakes cool, then use a serrated knife to level off the top of each cake, if needed.
For the buttercream icing, combine the butter, milk, and vanilla in a bowl and mix until smooth. Add the powdered sugar a few cups at a time until it is incorporated.
Color 3/4 of the icing blue. For the remaining icing, color half pink and half gray.
Place the first cake on top of a cake plate. Add a generous amount of blue icing to the top of it and use an angled spatula to smooth the icing across the top of the cake. Place the second cake on top and cover the top with icing. Repeat for the third cake. Add blue icing around the edge of the cake and smooth it with an angled spatula.
Place the remaining blue icing in an icing bag with a star tip. Place the pink and gray icing in two separate icing bags, each with a small, round tip.
Around the side of the cake, add pink and gray music notes.
Insert the cake topper into the top of the cake.
Around the top and bottom of the cake, add a decorative edge with blue icing.
Add assorted blue sprinkles to the top and bottom of the cake.
Find more Blue's Clues and You! recipes to try at home below and watch my interview with live-action host Josh!