This post contains affiliate links. Purchases from these links may provide a small commission to me to help support my blog. There is no fee or charge for you.
Valentine's Day is right around the corner and Nickelodeon has the perfect Legend of Korra printable cards to share with your friends!
From Pabu to Naga, Korra, Bolin, and more — these Valentine's Day cards are perfect for the Avatar in your life.
DOWNLOAD THE LEGEND OF KORRA VALENTINE'S CARDS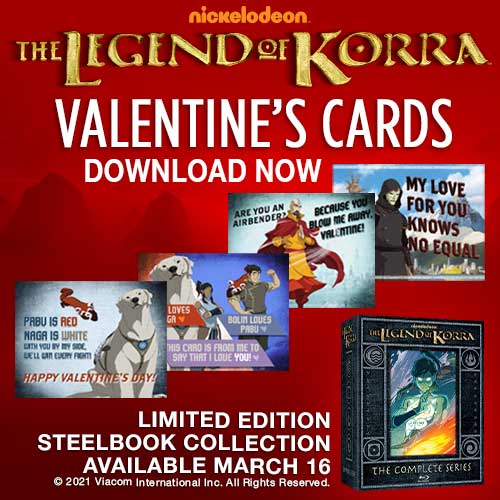 Purchase The Complete Series Limited Edition Steelbook Collection
Mark your calendars! The Legend of Korra – The Complete Series Limited Edition Steelbook Collection will be arriving on March 16!
The 4-book collection features stunning new artwork by artist Caleb Thomas, with each book featuring a different element (Fire, Water, Earth, and Air).
The front covers combine to showcase Korra's physical journey to become the Avatar, while the back covers represent pivotal moments in her spiritual journey. Thomas also designed the covers of the Avatar: The Last Airbender SteelBook® and was handpicked to design both collections' covers after series co-creator and executive producer Bryan Konietzko became a fan of Thomas' art style on social media. The collection's production run will be limited to 10,000 units.
Created by Konietzko and Michael Dante DiMartino, The Legend of Korra picks up seventy years after the end of the Avatar: The Last Airbender story arc with brand-new characters and settings. The series follows the new Avatar, Korra, as she faces the difficult challenges, duties, and responsibilities that come with being the Avatar. The series aired on Nickelodeon and Nick.com from April 2012 through December 2014.
The spirit of the Avatar lives on in the complete series of The Legend of Korra. Relive every moment from all four books. From meeting Avatar Korra, a teenage girl from the Southern Water Tribe, in Book One, to opening the spirit portal and entering a new age where spirits and mankind coexist in Books Two and Three, to embarking on a journey of self-discovery and restoring balance to the Earth Kingdom in Book Four, fans won't want to miss a second of air, earth, water and firebending in this complete collection!
Seasons:
Book One: Air

Season 1 – 12 episodes – Aired 4/14/12 – 6/23/12

Book Two: Spirits

Season 2 – 14 episodes – Aired 9/13/13 – 11/22/13

Book Three: Change

Season 3 – 13 episodes – Aired 6/27/14 – 8/22/14

Book Four: Balance

Season 4 – 13 episodes – Aired 10/3/14 – 12/19/14
The Legend of Korra – The Complete Series Limited Edition Steelbook Collection arrives on March 16! Pre-order the series now.