This post is sponsored by Paramount Home Entertainment. All opinions are my own. This post contains affiliate links. Purchases from these links may provide a small commission to me to help support my blog. There is no fee or charge for you.
Love (and Monsters) are in the air!
With Valentine's Day right around the corner, I've teamed up with Paramount Home Entertainment to share a fun, Monsterpocalypse-worthy treat inspired by one of my favorite creatures from the new Love and Monsters film — the pool frog!
Scroll below to find everything you need for a Love and Monsters movie night, now available on 4K Ultra HD, Blu-ray, DVD, and Digital! I'm sharing a recipe to make your own gummy treats for your Valentine (with printable heart boxes), monster coloring sheets, and a look at how the creatures were made in my recent interview with Steve Boyle, Special Effects – Head of Creatures.
About Love and Monsters
Seven years after the Monsterpocalypse, Joel Dawson (Dylan O'Brien), along with the rest of humanity, has been living underground ever since giant creatures took control of the land. After reconnecting over radio with his high school girlfriend Aimee (Jessica Henwick), who is now 80 miles away at a coastal colony, Joel begins to fall for her again. As Joel realizes that there's nothing left for him underground, he decides to venture out to Aimee, despite all the dangerous monsters that stand in his way.
The fun-filled and action-packed adventure also stars Dan Ewing, Michael Rooker and Ariana Greenblatt. The film is directed by Michael Matthews.
—> Read my spoiler-free Love and Monsters movie review.
Love and Monsters Coloring Sheets
Download Love and Monsters Coloring Sheets for a fun movie night activity!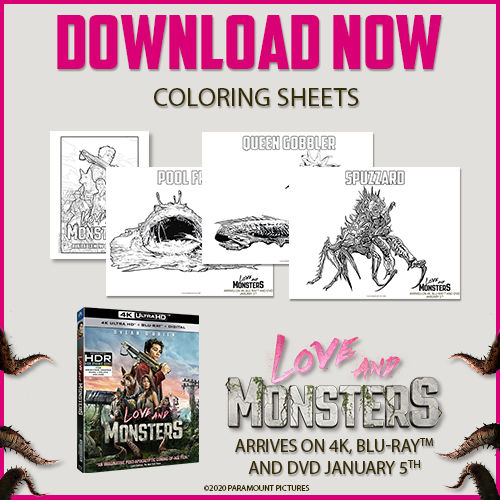 Interested in How The Monsters Were Made?
Go behind the scenes and hear about the monster magic that took place to bring the film's creatures to life from Steve Boyle, Special Effects – Head of Creatures.
I found it fascinating to learn just how much time and detail was poured into the physical creature pieces and loved hearing about Steve's perspective on how the best creatures have the perfect combination of practical effects and CGI.

Pool Frog Gummies Inspired by Love and Monsters
Ingredients and Supplies:
½ cup cold water
¼ cup corn syrup
2 envelopes of gelatin
1 box of lime Jell-O
Small pot
Glass
Condiment bottle
Baking sheet
Wax paper
Printed heart candy box — DOWNLOAD
Instructions:
Add the cold water and corn syrup to a small pot and stir to combine.
Stir in the gelatin and Jell-O. Over medium-high heat, stir the mixture regularly for 5-8 minutes until it has liquified and begins to bubble.
Carefully pour the hot mixture into a glass and let it cool for 10-15 minutes, then remove any foam from the top.
Place the frog molds on top of a baking sheet.
Pour the gelatin mixture into an empty condiment bottle, then fill each frog mold with the mixture.
Place the baking sheet with the filled molds in the refrigerator and let set overnight.
Once firm, carefully remove the frogs from the molds and place in an assembled candy heart box.
Love and Monsters is available on 4K Ultra HD, Blu-ray, DVD, and Digital!