Special thanks to Paramount Home Entertainment and Nickelodeon Home Entertainment for the Are You Afraid of the Dark? review copy. All opinions are my own.
The Midnight Society is back with a new terrifying tale that will bring shivers to both young and old Nickelodeon fans. Are You Afraid of the Dark? is just as spooky and suspenseful as I remember it as a child, and fans can now bring the new series home on DVD.
When new girl Rachel moves to town, she's inducted to the Midnight Society after a rather chilling initiation. To be formally accepted to TMS, she tells a tale of the Carnival of Doom featuring an evil ringmaster Mr. Top Hat. It's a story she wrote herself, and while scary, it's just a story — right?
But when eerie coincidences occur and Rachel's chilling story surrounding the Carnival of Doom starts playing out in real life, TMS must face their fears and Mr. Top Hat himself.
I'll be honest, I watched the new series in broad daylight! I'm not typically a scary movie fan, but nostalgia won me over and I had to see what the new version of The Midnight Society was all about.
Growing up, I watched Nickelodeon shows every day after school. Despite my dislike of being scared — I mean, I STILL can't walk up or down the stairs in the dark — I would always force myself to watch Are You Afraid of the Dark? (mostly out of curiosity)!
Similar to me, my husband was also creeped out by the show when he was growing up. Coincidentally, he recalls himself and his brother being TERRIFIED by The Tale of the Ghastly Grinner episode which is included as a bonus episode with this series! Time will tell if it lives up to the nightmare hype he gives it! We plan to rewatch the original episodes included on the DVD soon to see if they are as scary as we recall.
While I'm certainly not a scary-movie person, the revamped Are You Afraid of the Dark? episodes had just the right amount of creepiness, jumps, and original storytelling. I still probably won't watch it in the dark, but it was fun to revisit the legendary campfire and hear a new tale by TMS!
Pair Your Viewing of Are You Afraid of the Dark? with Campfire Snacks and Crafts
My friends at Geeks Who Eat and Mama's Geeky have come up with the perfect campfire craft and s'mores dessert. Download the instructions for both below or click here.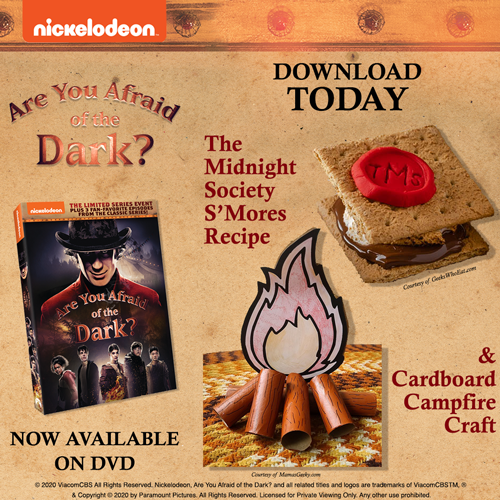 Are You Afraid of the Dark? is Now Available on DVD
Re-imagined for a new generation, Nickelodeon's all-new version of '90's kids' cult classic Are You Afraid of the Dark? is now available to purchase from Paramount Home Entertainment and Nickelodeon Home Entertainment. The three-part limited series follows members of an entirely new Midnight Society, who tell a terrifying tale of the Carnival of Doom and its evil ringmaster Mr. Top Hat, only to witness the shocking story come frightfully to life and prepare for an adventure beyond their wildest nightmares.
A must-own for fans of the classic series, as well as those new to the franchise, the Are You Afraid of the Dark? DVD also includes three fan-favorite episodes from the original series and will be available for the suggested retail price of $13.99.
The new members of the Midnight Society are:
Rachel, played by Lyliana Wray (Top Gun: Maverick, Black-ish);
Gavin, played by Sam Ashe Arnold (Best.Worst.Weekend.Ever.);
Akiko, played by Miya Cech (Rim of the World, Always Be My Maybe);
Graham, played by Jeremy Taylor (IT: Chapter Two, Goosebumps 2: Haunted Halloween);
Louise, played by Tamara Smart (Artemis Fowl, The Worst Witch);
The Carnival of Doom's ringmaster, Mr. Tophat, is played by Rafael Casal (Blindspotting).
Are You Afraid of the Dark? Episodes:
Part One: Submitted For Approval
Part Two: Opening Night
Part Three: Destroy All Tophats
Special Features (US only):
Original Series Season 1, Episode 2: The Tale of Laughing in the Dark
Original Series Season 4, Episode 8: The Tale of the Ghastly Grinner
Original Series Season 5, Episode 1: The Tale of the Dead Man's Float
* I declare this meeting of The Midnight Society closed.*